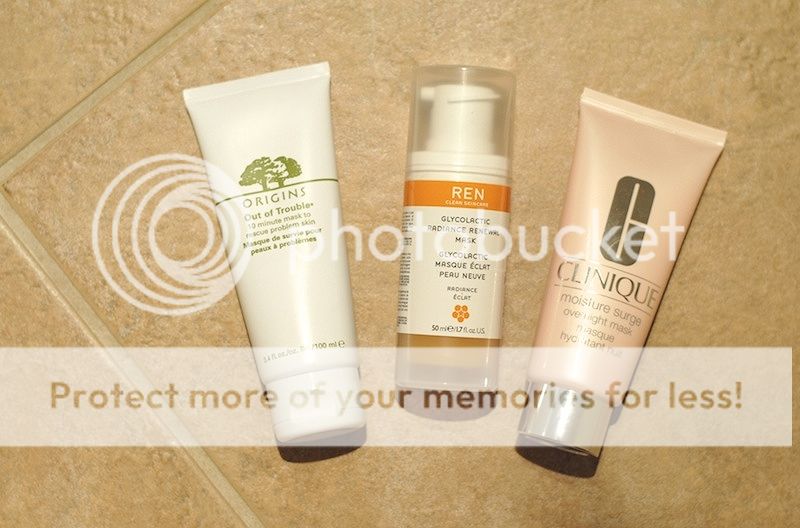 Every now and then, my skin needs a big detox, so I whip out the big guns and get to work. This usually happens once a week and that normally falls on a Sunday night in the bath! A mask to suck all the gunk out of my skin, one to exfoliate while boosting the radiance and one to pop all the hydration back into my skin.
I find it hard to find a mask which will help my skin, just to keep the blackheads & blemishes at bay, without drying out my already dry skin. I have tried Origins Clear Improvement in the past and it was a recipe for disaster, so I was intrigued when
Origins Out Of Trouble Mask
* landed in my clutches. I know that my friend,
Suzie
, loves this mask so I was sure I would like it too. I don't leave it on for 10 minutes, probably about 5 minutes before it becomes too much for my skin. It has an overwhelming smell of tea tree oil about it and my skin is a little tight after using it, but it works. The Zinc Oxide and Sulfur helps absorb any of the excess oil in my skin, while the Camphor helps calm the skin after it's sloughed off the dead skin cells. I do find that I'm not able apply it all over my skin, as it can dry me out a little bit.
A mask which looks a lot like marmalade and smells rather fruity,
REN Glycolactic Radiance Renewal Mask
* is loved by many people and I can see why. It helps to remove dead skin cells to renew the complexion, combats those pesky little blackheads so that the skin can look brighter and healthier. The natural fruit acids in the mask include passion fruit, lemon, grape and pineapple, whilst the Papain helps exfoliate the outer skin layer to encourage cell turnover. REN suggests that people with sensitive skin not to use it, so I was a little scared as mine can be slightly sensitive to come products. I was expecting a tingly sensation when it's applied to the skin, but my skin just felt rather warm. After washing it away, I'm always left with skin looking a lot more radiant than before, something I look for in most products.
After exfoliating and sucking the gunk out, I'm left with a need for a lot more moisture.
Clinique Moisture Surge Overnight Mask
* is a lovely gel-cream moisturising overnight mask. It protects the skin from dehydration and helps plump the skin overnight. I've tried a lot of overnight moisture masks, but I prefer this one out of them all, due to its thinner consistency. I apply this to the skin, leave it for a while and before bed, rub it in like a moisturiser. That way I find is best so that you don't have a sticky face for bed, which of course no one wants!
So, when are you giving your skin a detox?
Luce x